Budget
M&O Work Order History 2007 − 2015

Notes:
Unlike the Summary Cluster Report, these figures represent work performed throughout the District, not just at schools. In addition, "Average Time to Complete WOs" represent the time between when the WO was opened and closed in the database, not the days to actually complete the job.
Retroactive reconciliations of the SchoolDude FIMS' work order system are conducted as WOs change from "pending," "open," and "closed" status, consequently altering the historical figures reflected throughout this and previous Reports. FIMS is a dynamic, never static system.
M&O budget history 2007 − 2015
Following is a historical perspective of M&O's budget, salary expenses, and employment numbers. Every year since the significant budget drop in 2010, monies and personnel that the Division is apportioned to operate on has decreased while work orders, the District's square footage, and school campuses have increased. M&O operated on 26.9% less dollars in the 2014-15 FY than in 2006-07 but realized a slight 1% gain over the previous FY to accommodate three added full-time employees.
M&O's Total Budget for Fiscal Years 2007 – 2015
Notes:
Work order totals apply District wide, not just school sites
Several schools sometimes share one campus
The Operational, SB-9, and Salaries/OT & Benefits columns equal the M&O BUDGET column
The Budget allocation includes "carryover" monies from previous fiscal year

M&O expenditures by school cluster
Following are expenditures by High School Cluster from 2007 through 2015. Figures apply only to work orders on school sites; the higher number of work orders and expense totals stated elsewhere in this Report represent M&O work for all District facilities. Detailed reports representing each Cluster can be found beginning on page 94 of the Appendices.
Rio Grande High School Cluster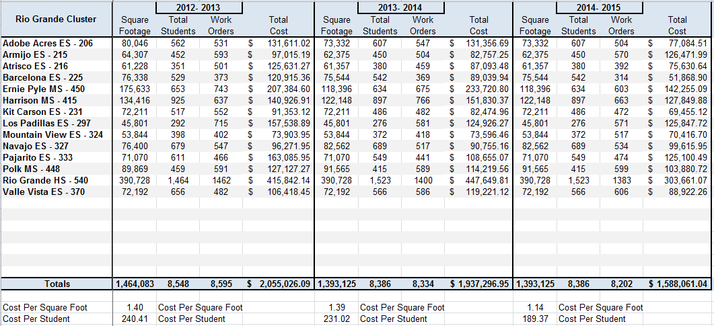 West Mesa High School Cluster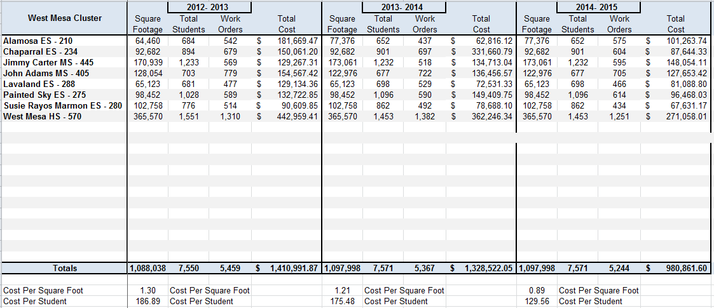 Highland High School Cluster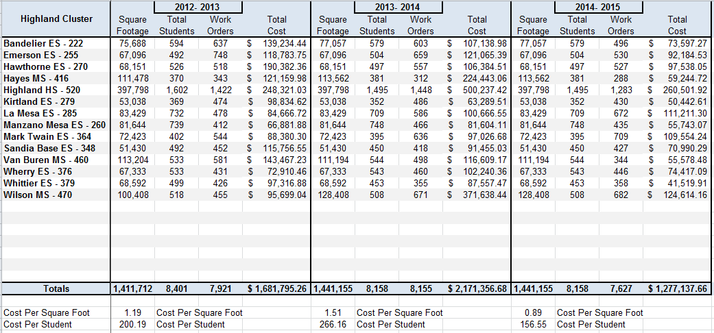 Del Norte High School Cluster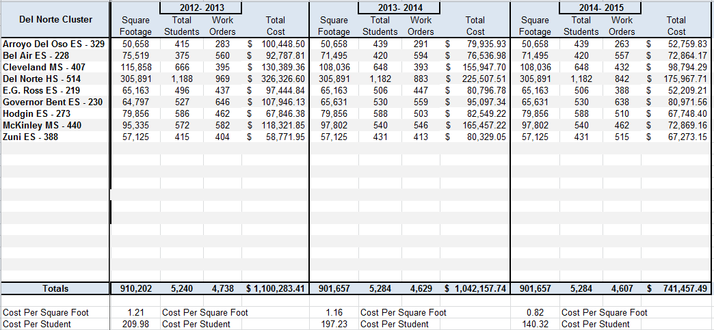 Cibola High School Cluster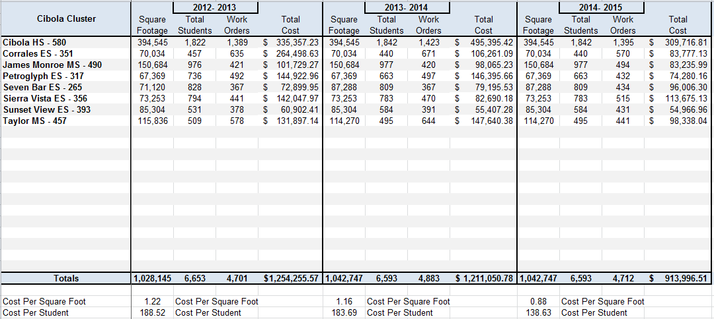 Valley High School Cluster
Albuquerque High School Cluster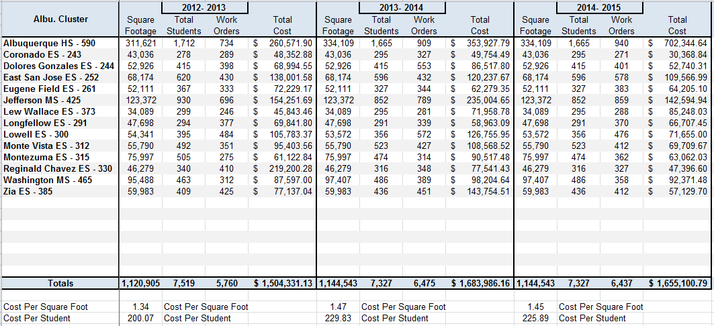 Sandia High School Cluster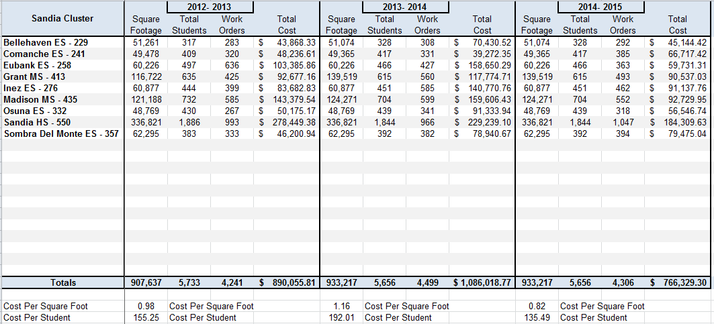 Manzano High School Cluster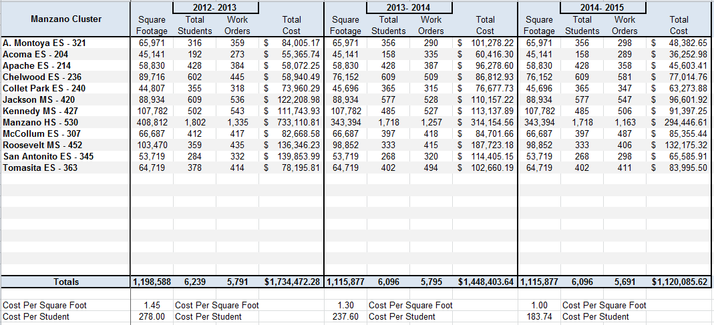 Eldorado High School Cluster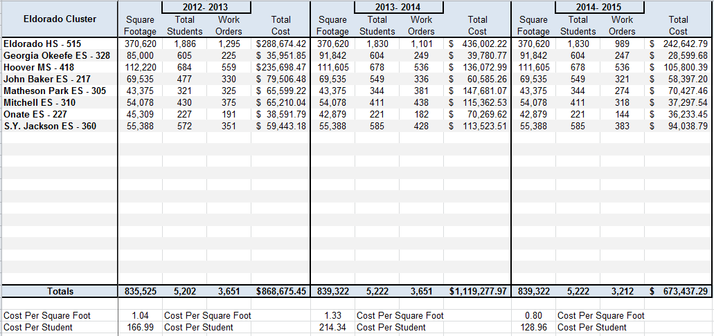 Atrisco Heritage Academy High School Cluster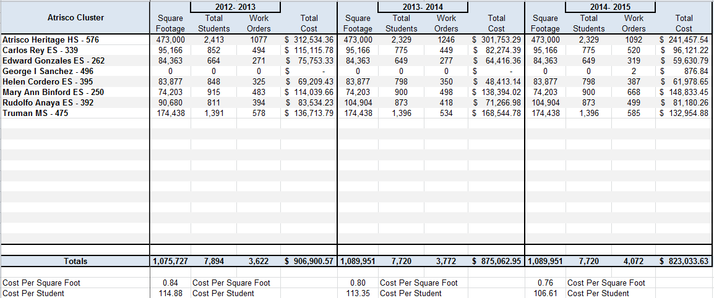 Volcano Vista High School Cluster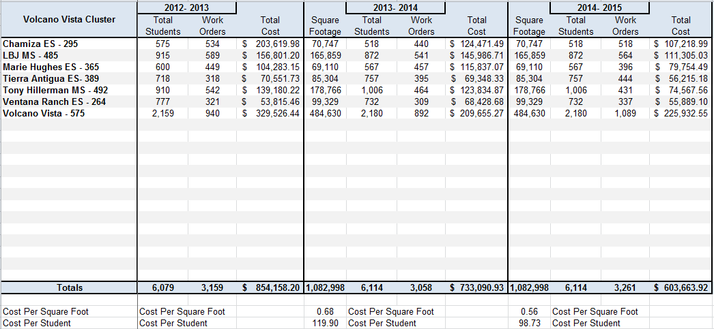 La Cueva High School Cluster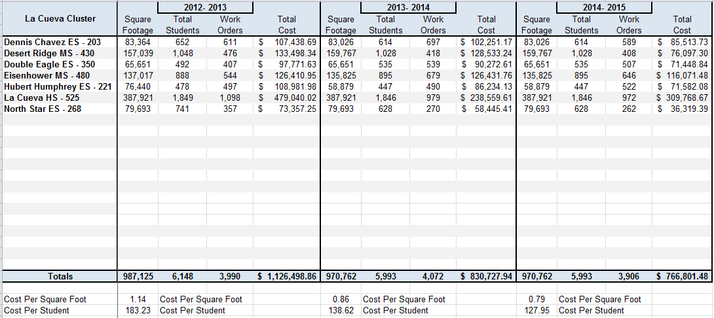 Alternative Schools' Cluster 
M&O Expenditures per High School Cluster 2007 – 2015