Resources
Technical Assistance/Program Support
Resources for the Classroom
Spanish Language Arts Power Standards
Sheltering Content Instruction
English as a Second Language (ESL) Literacy
Spanish Content and Literacy
Instructional Videos
Teaching Technique
Example of LAS/NMELPA Levels
Great Websites
New Mexico Public Education Department website
NMPED's website includes released test items and assessment frameworks... scroll down to Assessment & Evaluation for these links.
Testing information from RDA
This APS site contains important information about testing of all students, including English language learners. Visit the RDA site for assessment and other resources. To access SBPR information and materials, log on (no registration needed) and click on SBPR.
APS Cross Cultural Education Resource Library
The CCERL provides materials and professional literature for all APS teachers. You will also find information on second language acquisition, cultures of New Mexico and of the world, and materials to support language instruction.
WordSift:
Noted researcher in second language acquisition, Dr. Kenji Hakuta, and colleagues from Standford University have just launched a new website with strategies for teaching academic language. You will find pictures, examples, graphic organizers, academic word lists, and more.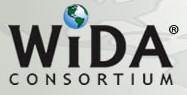 WIDA (World Class Instructional Design and Assessment) Consortium is a consortium of states dedicated to the design and implementation of high standards and equitable opportunities for English language learners. WIDA has developed useful resources such as ELD standards, Spanish language arts standards, and "Can Do" descriptors to help in planning differentiated instruction for ELLs.
High Point Materials - Best Practice Guidelines
Get guidelines for using High Point reading materials with English language learners in grades 6-8. There are suggestions for assessment, student placement, and classroom implementation.
Document Actions