The Teachers' Toolbox (formerly DLITS)
The Teachers' Toolbox is a complete supply and service store for APS teachers and support personnel with costs well below retail prices. The Teachers' Toolbox is set up to accommodate individual purchases as well as bulk orders. The staff works hard to meet every supply need and to make the store an affordable and convenient aid to teachers.
Contact Information
Physical Address:
912-A Oak St. SE Albuquerque 87106 Map
Phone: (505) 848-8766
Fax: (505) 848-8767
Hours:
Hours of Operation

Effective August 13th, 2018
Mon.–Fri. 8:00AM – 5:00PM
Closed on Saturdays
Labor Day Weekend
Thanksgiving Weekend
Winter Break
Presidents' Day Holiday
Vernal Holiday
Call 848.8766 for Schedule
Products
Teaching Materials
Classroom Supplies
Student Incentives
Self Services
Reminder:  Have items in PDF format that you would like to print.
Remember: No children are allowed in The Teachers' Toolbox/Graphics facility at any time.
Graphic Design Services

Need help setting up files to print properly? Need a complete design for your final product? Visit us Tuesday and Thursday afternoons or make an appointment to work with our Graphic Designer.

Click Image below for printable pdf.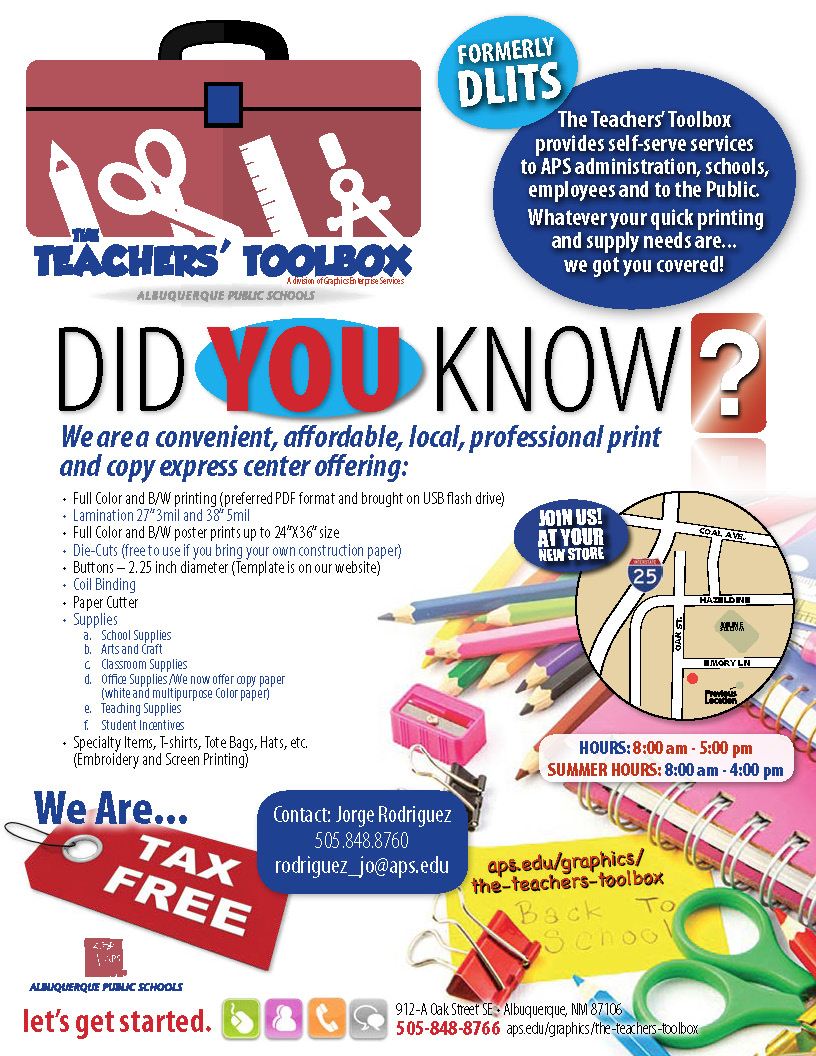 What We Do