We Love Our Schools! says Albertsons Corporate and the Eastdale Store
The Albertsons at Candelaria and Eubank presented checks for $1,000 to Grant MS and Sombra del Monte ES recently, courtesy of the Albertsons Market Charity Golf Classic and the We Love Our Schools! initiative. Albertsons nationally has a strong Community Partners program and the Albuquerque stores have been loyal and enthusiastic Join-a-School partners with many schools in APS over the years.
Eastdale store Manager Dave Inman (left) and employees Christine and Corinna present a check from the Albertsons Market Charity Golf Classic to Grant MS Principal Paul Roney.
Manager Dave Inman and employees Corinna and Christine surprised both staff members and students at Grant MS last Friday morning.   Not only did they bring a $1,000 check but they also brought trays of food for the staff members in the teachers' lounge .  Principal Paul Roney announced the gift to the school, which resulted in the teachers  applauding enthusiastically and thanking the Albertsons employees.  Next stop was the cafeteria which was filled with students.  Again, Principal Roney introduced Dave, Corinna and Christine and announced the gift to the school, which was greeted by a rousing cheer and a Thank You! Chant from hundreds of appreciative students.
On Monday morning, the Albertsons team surprised staff members at Sombra del  Monte ES with a $1,000 check.  Available staff members gathered in the library for the presentation and they, too, were treated to trays of sandwiches and cookies, courtesy of the store.  Principal Patricia Sanchez said the funds would be given to the Instructional Council to determine what need would be filled; one possibility was reinforcing literacy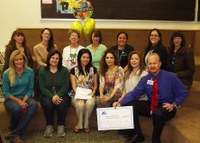 through the purchase of books for the students.
Manager Dave Inman has been with Albertsons for over 18 years and has partnered with local schools at each of his three locations.   Other Albuquerque Albertsons stores actively partner with schools in their neighborhood as well.   Christine Wilcox, in the Albertsons Corporate office, developed the Albertsons Market Charity Golf Classic. The donations were from funds raised during the golf event and earmarked for local schools through the We Love Our Schools! program.   Albertsons Corporate has also supported students and families during the APS School Supply Drive held each year in the summer.  Last year a $500 gift card for school supplies was donated to the initiative.  All donation requests now go through the corporate office in Phoenix.  Forms can be found online at www.albertsonsmarket.com .  Go to the In the Community link and check the Community Partners program.  Thanks to Albertsons for continued support and for being a great Community Partner!