Clothing Bank Collecting New Socks, Underwear & Money for Shoes
Donations can be dropped off from 8 a.m.-6:30 p.m. Dec. 16-24 at the APS administration building, 6400 Uptown Blvd. NE. Monetary donations can be sent to the APS Education Foundation.
December 19, 2013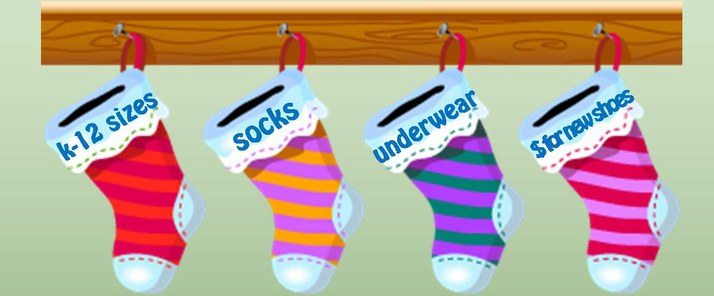 While holiday shopping over the next couple of weeks, how about picking up a pack of underwear and socks for Albuquerque Public Schools students in need. Not a shopper? You could donate money to help them get new shoes instead.
The APS Community Clothing Bank is sponsoring a sock and underwear drive from Monday, Dec. 16, through Tuesday, Dec. 24. New packages of undergarments can be dropped off at the APS administration building, 6400 Uptown Blvd. NE, from 8 a.m. to 6:30 p.m. All sizes are needed for students in kindergarten through 12th grade.
For more information, contact Sonja Martens at 855-5267 or martens@aps.edu.
If you'd rather, you can send money for new shoes to the APS Education Foundation, P.O. Box 25740, Albuquerque, NE, 87125.
APS, which took over management of the clothing bank this summer, expects to help nearly 5,000 students this school year.
"Socks and underwear may not seem like the most glamorous holiday gifts, but many of our students will truly benefit from this clothing drive. And if you'd rather make a financial donation, we can use the money to buy new shoes for our kids. Every little bit helps," said APS volunteer manager Sonja Martens.