Buy Shoes on Sale this Saturday and Help the Foundation
Shoes on a Shoestring will give consumers 10% off their purchases and the Foundation 10% of all the day's purchases.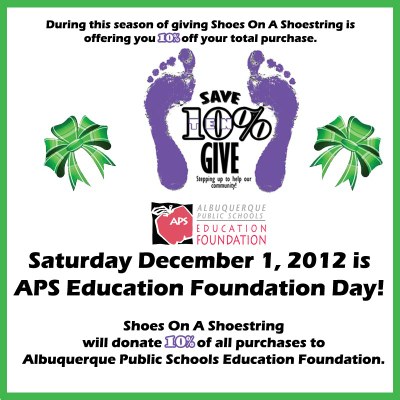 Shoes on a Shoestring and the APS Education Foundation are announcing a partnership that should be a perfect 10.
Or in this case: Ten/10.
Shoes on a Shoestring's locations on both the east and west sides of town have deemed Saturday, Dec. 1, as APS Education Foundation Day. Both Shoes on a Shoestring locations are offering 10 percent off to the consumer on that day, and will match that discount with 10 percent of the day's purchases going to the Foundation.
"It's very humbling when a business with the reputation of Shoes on a Shoestring wants to help, and we're very grateful," said Foundation Executive Director Phill Casaus. "We feel like this is going to be a terrific benefit to the students in APS."
Shoes on a Shoestring stores  are located  at 10030 Coors Bypass NW (west side) and 7200 Montgomery NE (east side). They are one of the largest independent shoe retailers in the Southwest, representing around 140 different brands of men's, women's and children's shoes.
The Foundation is a 501 (c)(3) nonprofit that works to benefit APS academic programs, particularly in Literacy, Fine Arts, Middle/High School Activities and STEM (Science, Technology, Engineering, Math). Since the fall of 2010, it has injected about $300,000 into APS classrooms through Horizon Awards, a competitive grant program that places a premium on in-classroom innovation.