The APS Hall of Honor
The Albuquerque Public Schools Education Foundation, with the support of the district, announced the first Hall of Honor inductees last year at the inaugural Gold Bar Gala. The Hall of Honor is now an annual recognition of some of the best to grace Albuquerque's classrooms, playing fields and hallways.
For more than a century, APS has been central to the growth of our community – in large part, thanks to the tireless contributions from those in schools and departments who went the extra mile to improve the lives of our students.
A committee composed of Foundation board members, community leaders, teachers and retired APS employees have reviewed nominations for inductions into the APS Hall of Honor in 2018. Please consider nominating a coach, teacher, librarian, counselor, principal or anyone who has made an impact on students and Albuquerque Public Schools for consideration in 2019.  For more information on nominating, contact Lawren McConnell at Lawren.McConnell@aps.edu.
2018 Hall of Honor Inductees: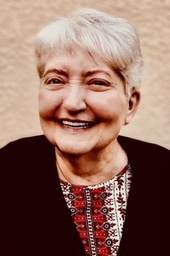 Mary Ann Anderson
Mary Ann Anderson began her 37-year career in Albuquerque as a kindergarten teacher at Mission Avenue Elementary School. She taught and served as an administrator in several schools within the district, including Monte Vista Elementary, Armijo Elementary, Marie Hughes Elementary, Alvarado Elementary, Stapleton Elementary, and Chaparral Elementary.
Notably, Ms. Anderson opened a new school, Stapleton Elementary School, in the fall of 1990. Then part of the Albuquerque Public Schools district, Stapleton Elementary was named for Ernest Stapleton, a former superintendent of APS and an advisor to Ms. Anderson.
Ms. Anderson retired in 1999 and then returned to APS in 2002 to work in the APS Service Center before retiring for good in 2008.
In 1979, Ms. Anderson served as a clinical supervisor in a joint APS/UNM program where she supervised student teachers in the final years of their teacher education programs.
In 1978 and 1982, Ms. Anderson served as a master teacher, and through this program worked with other master teachers to provide knowledge and guidance to new teachers.
She has been recognized by the New Mexico Association for Education of Young Children for her work in early childhood education and served as president in 1982-83. She was awarded Principal of the Year in 1994 by the New Mexico Association of Education Office Personnel. In addition, Ms. Anderson served on numerous district committees to help APS best serve its students.
Ms. Anderson had the good fortune of working with some of the best early childhood educators in Albuquerque, including Marie Hughes, Catherine Laughlin, Ernest Stapleton, Mary Ann Binford, Steve Hess, and Hugh Prather. Always willing to learn new methods and skills and put them into practice, Ms. Anderson is highly regarded by her peers for her mentorship, her leadership by example, and her incredible knowledge that she shared with many.
Numerous educators and administrators shared their experiences of working with Ms. Anderson to support her induction. Nancy Lacher, former principal of Seven Bar Elementary School, writes of Ms. Anderson, "She helped me open Seven Bar, unpacking boxes, moving into the building, encouraging me when I felt overwhelmed and guiding me. All of that guidance and support continued when she took a job at the Service Center. During her time there I was always relieved when I could talk over a situation with her and listen to her advice as well as receive her support. She cared deeply about the lives of the teachers she worked with and the students in her school community. She worked tirelessly for students. She believed in people. She advocated for her teachers. She cared about education. She was a constant learner. She dedicated her life to teaching and learning. She was a thinker."
Ms. Anderson states, "I am a firm believer in the value and importance of our public schools and the people who staff them. I loved going to work every day. The years I spent with APS were a wonderful opportunity for me to contribute to my community."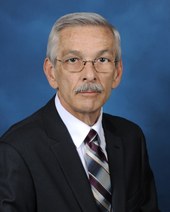 Mark Shea
Mark Shea began his 30-year career at APS as a dispatcher with the APS Security Division in 1976. He became a sworn officer a year later, and in 1989 was promoted to sergeant. In 1991, Mr. Shea became the Deputy Chief of the APS Police Department. He retired 15 years later in 2006.
Understanding fully the critical role the APS Police Department provides in the education of our students by providing a safe environment in which they learn, Mr. Shea worked tirelessly over his three decades with the district to build a security division into a police department that valued character. Students were at the heart of his work, and he believed a strong police department worked within schools, not outside of them, to let students and employees know they had protection and support. 
A life-long learner, Mr. Shea attended the Northwestern University School Police Command Staff Training in 1989 and the FBI Academy in 1999. In 2000, Mr. Shea received his B.S. in Occupational Education in Human Services. Mr. Shea led by example, and took every educational opportunity to grow his knowledge-base and teach others. Even after he left APS, his support and guidance continued when he became an instructor and then administrator at the New Mexico Department of Public Safety. Mr. Shea continues his service to the community as the current Undersheriff for the Valencia County Sheriff's Office.
Mr. Shea's career is remembered by his peers as one in which each and every APS police officer may be proud. He worked with many programs aimed at protecting children and keeping them on track to live a successful life. He served on a blue ribbon committee to divert at risk youth from the criminal justice system, and he worked with juvenile probation officers. He also worked with the U.S. Attorney's Safe Street Intiative and many other programs. Mr. Shea counseled students directly, to show them a path to a future without hopelessness and violence. He was a mentor to both his staff and the students he was sworn to protect. 
Mr. Shea designed the patch now worn by all APS police offers, which includes the pillars of character and the motto, "Safeguarding our Future." 
Both Mary Ann Anderson and Mark Shea displayed a deep reverence for education in their careers with APS. They both not only taught and served as mentors, but they never stopped learning. They provided instruction, but never gave up on being students themselves.
Learn more about the 2017 Hall of Honor Inductees:
Janet Kahn
Credited with reviving elementary school art and music after devastating budget cuts, Kahn was critical to a Fine Arts renaissance at APS. She helped create community partnerships that supported Fine Arts and was the driving force behind programs such as Art in the Open, the Metro Show, the Focus Show, Art Is Elementary, the Elementary Honor Choir and A is for Art!
A graduate of Highland High School and the University of New Mexico, her galvanizing accomplishment was creating an elementary school fine arts program that included art and music. In 1996, the program started with the hiring of 22 certified art and music teachers. By the time she retired in 2012, APS had more than 100 art and music teachers.
"What lasting legacy will Janet leave?" wrote Susan Wing, a fine arts teacher in the district. "Thousands upon thousands of children who will find their voice in art class, be it painting, singing, dancing … children who might not have succeeded in math or reading will find their salvation and grace in the art classes that Janet made sure were there for them. Janet gave APS students a place where their voices could be heard, their fears allayed and their hearts elevated."
Before taking the helm at Fine Arts, Kahn was the first director of the district's successful Join-A-School program, which helped match individual businesses with APS schools to create a productive pipeline of support and partnerships.
Kahn retired in 2012. She died in January 2016 after a long battle with cancer, and about a year ago, the Board of Education changed the name of Eubank Elementary to the Janet Kahn School of the Integrated Arts.

Dale Kempter
Kempter's 36-year career at APS began in 1956 as the orchestra director for McKinley Middle School (annual salary: $4,000). For decades, he was the district's music coordinator, and was credited with hiring and inspiring young music teachers.
His presence created a close partnership with the renowned Albuquerque Youth Symphony, for which he was the conductor and music director. He was involved with AYS for more than 50 years and continues to serve as its music director laureate.
"The Kempter name is synonymous with APS Fine Arts," wrote Debbie Fleming, executive director of the Fine Arts Department for Rio Rancho Public Schools. "He was with the district for many years and was loved and cherished by many arts educators."
Kempter's list of accomplishments are long and varied and include the Governor's Award for Excellence in the Arts and an honorary doctorate from the University of New Mexico in 2013.
Kempter retired in 1992 and lives in Albuquerque with his wife, Susan.

John Milne
Milne is perhaps the central figure in Albuquerque Public Schools history, serving as superintendent from 1911, when the city had five public schools, until his death in 1956. He is credited with the transformation of APS from a small, sparsely populated district into the diverse, multi-faceted organization that exists today.
Milne, a Scottish immigrant, came to the U.S. as a child and began his teaching career at the age of 19 in Wisconsin. His family moved to Albuquerque to seek a tuberculosis cure in 1905. Milne began teaching at the Third Ward School in 1907 and was hired as the principal at Albuquerque High a year later.
Milne was a visionary; his work as superintendent shapes APS to this day. He purchased hundreds of acres of vacant mesa land, creating sites for future APS schools when the city began to boom in the 1930s, '40s and '50s. He was committed to the concept of integration when segregation held sway in many parts of New Mexico and throughout the country. He also applied for a radio station license, helping create APS' radio station, KANW 89.1 FM.
Milne's pillar-of-the-community status was immense. In 1953, three years before Milne's death, a first-grade teacher at Longfellow Elementary School asked his one of his students if he knew the superintendent.
"Sure, I know Mr. Milne," the boy replied. "He's the boss of the whole world."

Janet Montoya Schoeppner
A teacher's teacher, Schoeppner worked at Eugene Field, Longfellow, Lew Wallace and Adobe Acres elementary schools before she died of cancer in 2009. She was just 47.
Schoeppner was an Albuquerque High School and University of New Mexico graduate. Colleagues say she was fiercely committed to multicultural and multilingual education, preferring to work in financially challenged districts in hopes of making the biggest possible impact. She mostly worked in kindergarten classrooms, but colleagues say her impact was felt throughout the schools in which she served.
"My son will graduate from college this year because she provided the foundation for love of learning to him and to countless other APS students," wrote Bianca Belmonte Sapien, whose son was in Schoeppner's kindergarten classroom at Lew Wallace.
Schoeppner taught in dual language classrooms, but also was the Even Start program director and a bilingual early childhood expert for the district. She recruited noted community members, including artists such as Edward Gonzales and Harold Littlebird, to talk to her classes about the arts, history, culture.
After her death, Dual Language Education of New Mexico created the Janet Montoya Schoeppner Scholarship Fund, which supports paraprofessionals and high school students who wish to become bilingual educators. To date, the fund has awarded 16 scholarships, with 12 more scheduled this year.
Janet Montoya Schoeppner Transcript
2019 Nomination Criteria
Nominees may be living or deceased.
Nominees must have at least fifteen years of employment within Albuquerque Public Schools.
Nominees, if living, must have been retired for at least five years.
Nominees should demonstrate good conduct and character.
Nominations should recognize individuals who have made significant and noteworthy contributions to the lives of their students, their schools and/or the district as a whole.
Nominees, if living, should be available to attend the presentation ceremony in April of 2019.
Letters of support must be received from at least three individuals who can testify to the impact of the nominee's career in education. Letters of support must come from non-family members. No more than three letters of support will be accepted.