The APS Hall of Honor
Nominations are open for 2019
The Albuquerque Public Schools Foundation, with the support of the district, announced the first APS Hall of Honor inductees in 2017 at the inaugural Gold Bar Gala.  The Hall of Honor is now an annual recognition of the sustaining legacy of those who gave their careers to public education and made a difference in the lives of those they worked with.   Do you know someone eligible for consideration in 2019?  Albuquerque Public Schools has been served by a host of  innovators, mentors and trailblazers that made a difference in the lives they touched.  They continue to make a difference in the lives of students every day because of the changes they spearheaded to make the district a better place to work and learn.  
Nominations for 2019 are no longer being accepted, and those received are currently being reviewed by the APS Hall of Honor Selection Committee. Please check back in December when we announce our 2019 APS Hall of Honor inductees!
2018 Hall of Honor Inductees: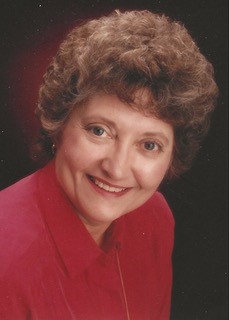 Mary Ann Anderson
Mary Ann Anderson began her 37-year career in Albuquerque as a kindergarten teacher at Mission Avenue Elementary School. She taught and served as an administrator in several schools within the district, including Monte Vista Elementary, Armijo Elementary, Marie Hughes Elementary, Alvarado Elementary, Stapleton Elementary, and Chaparral Elementary.
Notably, Ms. Anderson opened a new school, Stapleton Elementary School, in the fall of 1990. Then part of the Albuquerque Public Schools district, Stapleton Elementary was named for Ernest Stapleton, a former superintendent of APS and an advisor to Ms. Anderson.
Ms. Anderson retired in 1999 and then returned to APS in 2002 to work in the APS Service Center before retiring for good in 2008.
In 1979, Ms. Anderson served as a clinical supervisor in a joint APS/UNM program where she supervised student teachers in the final years of their teacher education programs.
In 1978 and 1982, Ms. Anderson served as a master teacher, and through this program worked with other master teachers to provide knowledge and guidance to new teachers.
She has been recognized by the New Mexico Association for Education of Young Children for her work in early childhood education and served as president in 1982-83. She was awarded Principal of the Year in 1994 by the New Mexico Association of Education Office Personnel. In addition, Ms. Anderson served on numerous district committees to help APS best serve its students.
Ms. Anderson had the good fortune of working with some of the best early childhood educators in Albuquerque, including Marie Hughes, Catherine Laughlin, Ernest Stapleton, Mary Ann Binford, Steve Hess, and Hugh Prather. Always willing to learn new methods and skills and put them into practice, Ms. Anderson is highly regarded by her peers for her mentorship, her leadership by example, and her incredible knowledge that she shared with many.
Numerous educators and administrators shared their experiences of working with Ms. Anderson to support her induction. Nancy Lacher, former principal of Seven Bar Elementary School, writes of Ms. Anderson, "She helped me open Seven Bar, unpacking boxes, moving into the building, encouraging me when I felt overwhelmed and guiding me. All of that guidance and support continued when she took a job at the Service Center. During her time there I was always relieved when I could talk over a situation with her and listen to her advice as well as receive her support. She cared deeply about the lives of the teachers she worked with and the students in her school community. She worked tirelessly for students. She believed in people. She advocated for her teachers. She cared about education. She was a constant learner. She dedicated her life to teaching and learning. She was a thinker."
Ms. Anderson states, "I am a firm believer in the value and importance of our public schools and the people who staff them. I loved going to work every day. The years I spent with APS were a wonderful opportunity for me to contribute to my community."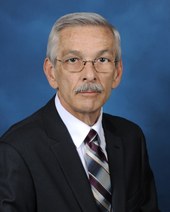 Mark Shea
Mark Shea began his 30-year career at APS as a dispatcher with the APS Security Division in 1976. He became a sworn officer a year later, and in 1989 was promoted to sergeant. In 1991, Mr. Shea became the Deputy Chief of the APS Police Department. He retired 15 years later in 2006.
Understanding fully the critical role the APS Police Department provides in the education of our students by providing a safe environment in which they learn, Mr. Shea worked tirelessly over his three decades with the district to build a security division into a police department that valued character. Students were at the heart of his work, and he believed a strong police department worked within schools, not outside of them, to let students and employees know they had protection and support. 
A life-long learner, Mr. Shea attended the Northwestern University School Police Command Staff Training in 1989 and the FBI Academy in 1999. In 2000, Mr. Shea received his B.S. in Occupational Education in Human Services. Mr. Shea led by example, and took every educational opportunity to grow his knowledge-base and teach others. Even after he left APS, his support and guidance continued when he became an instructor and then administrator at the New Mexico Department of Public Safety. Mr. Shea continues his service to the community as the current Undersheriff for the Valencia County Sheriff's Office.
Mr. Shea's career is remembered by his peers as one in which each and every APS police officer may be proud. He worked with many programs aimed at protecting children and keeping them on track to live a successful life. He served on a blue ribbon committee to divert at risk youth from the criminal justice system, and he worked with juvenile probation officers. He also worked with the U.S. Attorney's Safe Street Initiative and many other programs. Mr. Shea counseled students directly, to show them a path to a future without hopelessness and violence. He was a mentor to both his staff and the students he was sworn to protect. 
Mr. Shea designed the patch now worn by all APS police officers, which includes the pillars of character and the motto, "Safeguarding our Future." 
Both Mary Ann Anderson and Mark Shea displayed a deep reverence for education in their careers with APS. They both not only taught and served as mentors, but they never stopped learning. They provided instruction, but never gave up on being students themselves.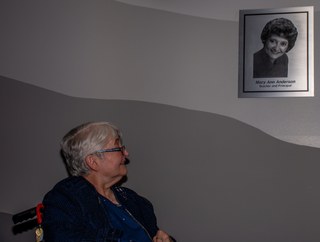 Mary Ann Anderson views her plaque at the Bruce and Alice King Educational Complex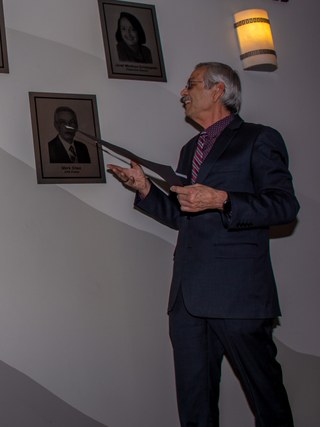 Mark Shea unveils his plaque at the Bruce and Alice King Educational Complex