Coronado Elementary School
Coronado Elementary School came in third place for Best In Class
La Prensa Newsletter
Number of Students Impacted: 300
Coronado Elementary School, a dual language school in downtown Albuquerque, now publishes a bilingual school newspaper,  "La Prensa" with students serving as contributing reporters. The goal of the project is to improve literacy in both English and Spanish through storytelling, editing and collaboration. The newspaper also allows students to learn more about their own families, culture and community by researching topics of importance to them and their school.
Over 300 students learn about citizenship and service, and build relationships as they conduct research for articles to publish. Literacy – speaking, listening, research, writing and peer review - has been profoundly impacted for all students. The use of Chromebooks allow students to conduct peer-review across classrooms, a process that increases participation in revision– which requires careful rereading and text analysis. "La Prensa" offers opportunities for inclusion of stories and poetry alongside factual articles. Writing is shared in a new outdoor display case and community events celebrate student achievement. This project provides authentic learning opportunities, and impacts student motivation and interest which has led to strong achievement.
Motivation for reading and writing is elevated when the purpose to do so is meaningful; this project provides this purpose. Students utilize multiple modalities for communication to successfully report their learning: Listening and speaking skills have been honed conducting interviews, note-taking skills have been developed gathering information, and revision through peer review requires students to read deeply and analyze structure and clarity. Use of the new Chromebooks conducted peer review electronically will increase student use of technology as a tool.  Writing for this publication has been woven into curricula at all grades.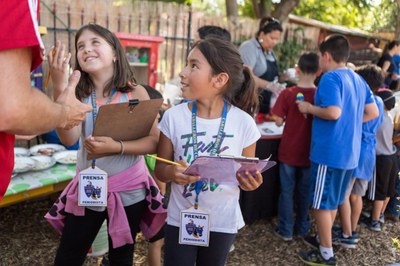 Where will the $5,000 in funding go?

Field trips so the students can learn more about journalism
Purchase additional Chromebooks so more students can participate