Cleveland Middle School
Cleveland Middle School came in second place for Best In Class
1+2 Colts Clubs Activity Day
Number of Students Impacted: 620
The Success Award granted to Cleveland Middle School funded a latticework of clubs and activities that are intended to reach all of Cleveland's 650 students. This project is based on the contention that student attendance and achievement rise when students are engaged and motivated, and when they are able to connect lessons from activities to the work they do in the classroom.  This program has been so successful, another middle school had adapted Cleveland's program and is currently implementing it.
1+2 Colts Clubs Activity Day develop life and academic skills for all students, in an innovative fashion; providing the opportunity to experience and engage in a variety of hands-on clubs and activities during the school day that are no longer offered in schools. Together, these activities address all middle school Common Core State Standards while building community which directly correlates to higher grades and graduation rates. Activities, such as Battle of the Books, Cooking, Rock Climbing, and Forensic Club allow all students to be part of a club atmosphere while deepening their knowledge and expanding their extracurricular interests.
1+2 Colts Clubs Activity Day has impacted student success through student engagement, increased attendance, and a focus on academic achievement. Student attendance rises when students are engaged and motivated to come to school. Since the program began the attendance rate went up with the implementation of 1+2 Colts Clubs Activity Day. Next, it has been proven that when students have real world, hands-on examples to pull from they have a greater understanding of in-class lessons. Students are able to connect lessons with activities and discussions they have had outside of the classroom, allowing them to feel more confident when participating in class discussions and completing assignment. Without these connections students only have a superficial understanding of what is being taught.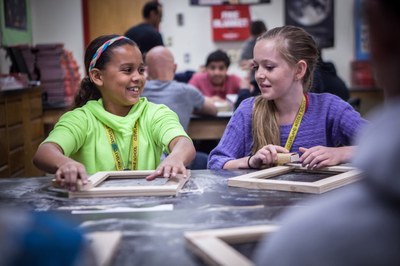 Where will the $10,000 of funding go?
Dissecting supplies and specimens
Paint by Number Kits
Model Car Kits
Duct Tape for Duct Tape Art
3D Printer supplies
Blankets- service project for homeless students
Karaoke machine for singing voices club
Crafting supplies for a variety of clubs
Jewelry making materials
Cooking/Cake Decorating Club supplies
Clay for Ceramics Club
Chess Boards, Dominos and various board games
Rocketry supplies
Robotics parts
PE equipment
Postage for International Pen Pals
Field trips to explore careers related to club activities