Counseling Services
Contact Information
Physical Address:
6400 Uptown Blvd. NE Suite 395 West Albuquerque 87110 Map
Phone: (505) 855-9826
Fax: (505) 855-9860
About Us
Mission & Vision
We challenge and encourage all counselors to become their personal and professional best.
We believe highly effective counselors improve student success and wellness.
Counseling Services is made up of multiple programs, working in tandem to support Professional School Counselors K-12. Together these programs address social/emotional, academic, and career development supports which make up Comprehensive School Counseling Programs at the school level. While each program addresses a different need, they all provide consultation, resources, and support to over 250 Professional School Counselors across the District.
This includes Elementary, Middle, High School, College and Career Readiness, Crossroads/Substance Abuse, and The District Stress Management and Response Team. When our Counseling programs are their best we can ensure collaboration, purposeful interventions, and equity so that all students may develop their highest potential.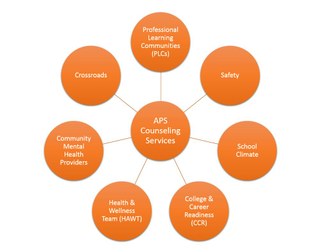 How do we help make a difference?
• We support and offer resources to Professional School Counselors including consultation, mentoring, intern and traverse student placement. Professional development through PLC and mandatory and optional Counselor trainings within the domains of School Counseling.
• We partner with stakeholders like Teachers, Administration, Parents/Families, Students, and Community Members.
• We offer trainings to school staff on crisis intervention, confidentiality, QPR, and Youth Mental Health First Aid. Because Safety and School Climate are a priority.
• We develop and support comprehensive College & Career programming to ensure students are successful after high school.