Volunteer with APS
Each day, volunteers display selfless acts of service to assure that all Albuquerque Public School students receive a quality education in a safe and secure learning environment.
Contact Information
Physical Address:
6400 Uptown Blvd. NE
Suite 340 West
Albuquerque 87110 Map
Phone: (505) 855-5267
Fax: (505) 855-9877
Think about how happy you are when you're doing what you love. Now, imagine sharing that passion with others. What better feeling is there?  Whether you are a student seeking community service opportunities, a family member seeking to become more involved in the education of your children, a retired or senior citizen seeking an outlet for your talents, experiences, and skills, or a corporation wishing to give your employees greater opportunity to be involved in their community, the Volunteer Services program has the answer to your needs.
Volunteer at a School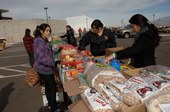 Make a Difference
Volunteers help support education through a wide range of school-related opportunities, including:
Tutoring
Mentoring
Classroom read alouds
Guest speaking
Classroom assistance
Non-classroom assistance (field trips, media center, site beautification)
Organization involvement (PTA, PTO, Student Health Advisory Council)
Before-and after-school programs
Each school has varying needs; volunteers act as tutors/mentors and provide assistance to schools in many ways, including:
Advocacy/Advisory - serving on committees or task forces; advising on special projects; consulting on certain issues.
Instructional Support - curriculum and classroom-related activities; motivational programs; materials and program development; enrichment programs.
Support Services - cafeteria, health, clerical, instructional materials, and audiovisual services.
Our community is very fortunate to have thousands of citizens who are dedicated to supporting both our students and our schools. Each day, volunteers display selfless acts of service to assure that all Albuquerque Public School students receive a  quality education in a safe and secure learning environment.
These volunteers -  parents, guardians, grandparents, business/community partners, community  members, the military, K-12 and college students, senior citizens, and others -  represent the economic, social, racial, religious and educational backgrounds within the Albuquerque community.
We are very proud of our  commitment to quality education and your personal  interest and desire to help is welcomed and appreciated. Youth are our most  important natural resource and their education will form the foundation of the future.
Thank you for investing in our future.
Why volunteer?
We value family and community engagement in school activities and believe that volunteer involvement can have a positive impact on a child's education.The goals of a school volunteer program are to:
Increase family engagement in public education
Encourage schools to use other pools of volunteers including students, senior citizens, service clubs and businesses
Provide assistance to classroom teachers and other educators
Improve communication between the schools and the communities they serve.
Background Clearance
While encouraging parent participation, we must also consider the safety of every child in the district by requiring a background check from volunteers prior to any volunteer activity at any APS school.
The background check will be conducted based on information obtained within the online application and takes 3-5 business days to process. Clearance decisions make take longer for those in which any instance is revealed on the background check.
The APS volunteer application is for all APS schools excluding APS and state chartered schools. All charter (APS and state chartered) school volunteers should inquire about volunteer opportunities directly with their charter school.
APS background checks are valid for 2 years.

Other Ways to Volunteer
We have many ongoing volunteer programs available to help support education.
Senior Citizen Reading Tutors
The Oasis program recruits volunteers ages 55+ to tutor children in reading one hour a week. The program targets grades 1-3 and is available in 24 APS schools. For more information, call (505) 889-0927.
Albuquerque Reads
Some companies offer their employees a chance to volunteer in a limited number of elementary schools to support the development of reading in kindergarteners. Since many employees are parents of school-age children, this offers an opportunity for parents to be involved in the academic development of children in their communities. Call (505) 764-3730 for more information.
City of Albuquerque Foster Grandparent Program
This intergenerational program brings children and loving retired adults together resulting in deeply enriching relationships. We train and place senior volunteers in schools to help set children on the path to a successful future. This Federal program pays a tax-free stipend to income-eligible retirees, 55 and older, to offset the cost of volunteering and make ends meet. The program's flexibility creates an outstanding volunteer environment. Please call 764-6404/764-6412 for more information.
APS Volunteering Policy: GE - School Volunteers