Sales and Marketing
Interested? Contact Marketing Manager Johanna King at 505-880-3736 or king_joh@aps.edu
Why Advertise With Us?
Available Opportunities -- Digital and Athletics

Albuquerque Public Schools is New Mexico's largest school district -- 30th largest in the nation -- and the second largest employer in the city of Albuquerque.  
 Advertise your business or service with APS and reach:
142 schools


87,000 students and their families

15,000 employees

A total market population of 676,000


A targeted family audience
We have several distinct programs to enable companies to reach parents, employees and sports patrons. Advertising and sponsorship opportunities include: 
Web advertising

E-newsletter advertising


Special event sponsorship

Athletic advertising/sponsorship

Partial proceeds from advertising are reserved for the APS Education Foundation, a 501 (c)(3) non-profit organization

established for promoting private support of the district and its students. 
Available Opportunities and Information
Digital
Reaches all employees, parents and students as well as interested community members. 16 million page views per year.
APS Employee Webpage
Reaches nearly 15,000 teachers, administrators and staff plus new and potential employees. 


Employee Newsletter - Perspective

The weekly electronic newsletter goes out to more than 15,000 employees every Thursday during the school year. 

Parent/Community Newsletter - APS News
The weekly electronic newsletter goes out to more than 70,000 parents, employees and community members every Tuesday during the school year. 
Athletics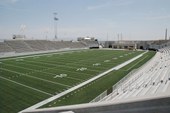 Stadium Naming Rights
APS has four athletic stadiums that are used by all 13 high schools as well as private schools and community programs. 
Football Season Vendor Pass
Ticket Backs
Goal Post Pads 

Crew Vests 

Bullseye Cap 

Interested in a venue not mentioned here? We're open to suggestions! Contact Marketing Manager Johanna King at 505-880-3736 or king_joh@aps.edu.
Why Are We Marketing APS?
Raises money for the district at a time when budgets are tight
Provides more flexibility and less dependency on state funding and local property taxes
Can help save threatened programs
Enhances brand image by applying value to district assets and our audience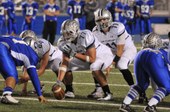 Public school districts across the nation (as well as private and charter schools) are recognizing the value of marketing. We have assets, such as our website and athletic venues, that can be used to help advertisers reach our employees and parents without interrupting the educational process.
We know companies want to reach our employees and parents. Let's face it, a lot of them already are doing so without benefiting our schools or the district. For example, you may have unknowingly bought an unlicensed t-shirt sporting a school mascot, not realizing that your child's school never saw any of the proceeds! Have you ever had a pop-up ad show up on you school's website -- they're not receiving any benefit from that, either.
We want to make sure that money earned in our stadiums, on our website, through our communications and using our assets helps benefit our schools and our students. Our sales and marketing campaign is one way we can do that.