Community
News for
Community
Posted April 17, 2018 - During National Volunteer Week we want to thank our 15,000+ volunteers who give of their time and wisdom to help our students, teachers and schools.
Posted April 4, 2018 - Childhood Adversity: How to recognize it, What to do about it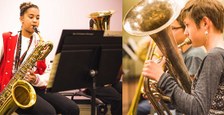 Posted April 3, 2018 - Auditions for the 2018-19 Season are May 1-18.
We Are APS
Albuquerque Public Schools is an intricate part of the Central New Mexico community it serves. Its boundaries stretch over 1,200 square miles across the city of Albuquerque and to the Sandia Mountains to the east, the Sandia and Isleta Indian reservations to the north and south and beyond the volcano cliffs to the west.
More than 84,000 students are taught by 6,000 teachers in 142 schools. APS is among the largest urban school districts in the nation and is Albuquerque's number two job provider with 14,000 full and part-time employees.
Learn More About Albuquerque Public Schools
Support the APS Community
Our support for students and employees extends beyond the school day, and we depend on solid partnerships within the community to meet the needs of those we serve. We work closely with local and state government, public and private colleges, and countless businesses – big and small – to make Albuquerque a great place to grow up, learn and live.
Interested in helping out? There are lots of ways you can support us, whether it's by volunteering in the classroom, donating new shoes and socks to the APS Community Clothing Bank or contributing to our non-profit APS Education Foundation. Your help is appreciated. After all, we're all in this together.
Volunteer with APS and make a difference.
Helping students in need to get clothes, shoes, undergarments and
coats so they can focus on learning
Provides programs, resources, and school-based services focused on
improving access, positive well-being, and support of our communities.
Reserve a school classroom, gym, or cafeteria online.
Get information on the legislative agenda and policies affecting education in New Mexico.