CCHS Facts to Consider
Purpose |  Location |  Calendar |  Summer |  Grade Levels |  Eligibility |  ACCUPLACER |  Cost |  Transportation |  Parking |  Food Services |  Schedule |  Friday Forums |  Commitment |  FERPA |  Supports |  Credits/Grades/Transcripts |  Extracurricular Activities
Purpose
The College and Career High School is a partnership between Central New Mexico Community College and Albuquerque Public Schools, and is guided by the CCHS Business Council.
At CCHS students have the opportunity to earn a college certificate or an associate's degree while completing their high school diploma.
Dual graduation (earning a high school diploma and a college degree or certificate) is the ultimate goal for our students. We help students save time and money as they pursue the college or career path of their choice. You can expect high academic standards.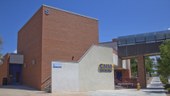 Location
Our high school is on the CNM main campus located in Building S on the corner of Coal and Buena Vista. Although our high school classes take place in the S building, students will take college classes in other buildings at CNM. There may even be occasions when students attend classes at other CNM campuses.
Calendar
CCHS does not follow APS's calendar. In general, CCHS follows CNM's calendar, but high school classes will begin about a week before CNM classes. This is true for both the fall and spring semester. New student orientation is required. As soon as the CCHS's 2014-2015 calendar is available, it will be posted on our website.
Summer
Summer session is mandatory. There is no cost to the student. Students who need to improve their reading and/or math ACCUPLACER score may be required to take a two-week summer Boot Camp. All other students will take CNM classes that further their credits toward their degree/certificate.
Grade Levels
CCHS is open to sophomores, juniors and seniors. We cannot take freshmen because the dual credit agreement doesn't apply to them.
Eligibility
CCHS attracts a wide variety of students from all geographic areas and socioeconomic groups in Albuquerque. Students interested in a challenging academic and career focused program are encouraged to apply. Successful completion of 9th grade and the ACCUPLACER test are required. For details see our course catalog page 5.
The ACCUPLACER
The ACCUPLACER is a test that assesses your skills in reading, sentence skills (English) and math to determine which college-level classes you are prepared to take. All accepted applicants will be given ACCUPLACER test dates for the summer. These tests are necessary to enroll in CNM courses. If the applicant has already taken the ACCUPLACER, a copy of the scores can be attached to the application. All students must attend summer registration at CNM.
Cost
College tuition and registration fees are free to CCHS students. High school classes are also free. Textbook costs for both the high school and CNM are taken care of by APS. However, the student is responsible for any additional fees required to pursue a particular degree/certificate plan which may include tools, uniforms, or software.
Transportation, Parking & Food Services
Students are responsible for providing their own transportation. All CCHS students are eligible to receive a free bus pass for all of the City's ABQ Ride bus routes using their CNM ID. Students who drive will need a CNM parking permit. CNM parking lots, both free and paid, require a parking permit. Go here for more information.
CCHS does not have a cafeteria, but cold lunches will be available through APS food services. Also, there is a cafeteria on the CNM Main Campus in the Student Services Center where students can purchase food.
Schedule
CCHS does not follow a traditional high school bell schedule. In general, CCHS students attend high school classes in the morning and CNM classes in the afternoon. Expect a college experience: there are no bells announcing the beginning and end of class; your school day may be longer than at a traditional comprehensive high school; you may have evening or even weekend classes; and as you move about campus to go from class to class, you will be unsupervised much of the time. You may have gaps in your day. There are three CCHS morning session classes which run from 7:30 a.m. to noon and afternoon classes that run from 12:30 p.m. to 2:30 p.m. A student is required to be at school while his or her classes are in session, during Friday Forums, or when appointments have been scheduled with the achievement coach.
Friday Forums
Friday Forums are usually scheduled the first Friday of every month and are for career and college speakers, announcements, and focus groups. During this time students will earn their Milestone Markers and hear about registration information and deadlines. Attendance is required.
Commitment
CCHS courses run on a block schedule, so this makes mid-year transfers back into a traditional APS high school very difficult. CNM registration occurs three times a year, which makes mid-year transfers into CCHS also difficult. When deciding to come to CCHS you should make a minimum commitment of one year.
College Culture
Students will be expected to follow CNM's codes and policies as listed in the CNM website. This includes information on issues related to behavior, discipline, dismissal or withdrawal from classes. CNM is a college campus with a college campus culture. Students are expected to be goal-oriented, motivated and prepared to learn in a mature setting. When in a CCHS classroom, the APS Student Behavior Handbook applies. When an APS/CNM policy overlap occurs, the more restrictive policy applies.
FERPA
Students in college courses are treated as adults and are the primary stakeholders of their personal information and grades. Parents will not have direct access to CNM instructors or college grades. CNM abides by FERPA. CNM academic record policies are outlined in the their website.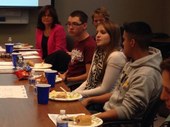 Supports
A key element of the APS partnership with CNM is our achievement coach. The achievement coach is a CNM staff member dedicated to our high school to help students:
Develop a graduation degree or certificate plan specific to their individual needs and goals
Navigate the CNM class registration process
Connect students to the many support services made available through CNM.
CCHS Summer Boot Camps are also available. These two week sessions in reading and math are designed to accelerate the students ACCUUPLCER scores. Maintaining academic success for both the high school and college is a partnership between CCHS faculty and CNM. Any time a student is struggling to pass a course, the APS and CNM staff and the student will design a plan.
Credits, Grades & Transcripts
All CNM course work, once completed, will be posted on both APS and CNM transcripts. This will become part of the student's permanent record. Grades W and Audits will show on the student's permanent high school and college transcript. GPA and successful completion of all registered courses may impact future financial aid. High School elective requirements at CCHS can only be filled by participation in CNM classes. If a student fails an APS or CNM course, a student must, in collaboration with the APS-CNM staff, make arrangements to repeat the course, which may be at a cost to parents. Failure of courses will impact the student's ability to progress at CCHS.
Extracurricular Activities
Extra-curricular activities (i.e. band, sports classes, ROTC) are available to students at their home attendance high school. It is the student's responsibility to make arrangements that do not conflict with CCHS or CNM schedules. Allow time for transportation when planning.