73.3: A Number Worth Celebrating
The graduation rate has jumped 16% in six years to 73.3%. Read Supt. Brooks' column that ran in the Feb. 11 Albuquerque Journal.
73.3.
By now I'm guessing you've seen and heard that number quite a bit. We've splashed it across Albuquerque on billboards, marquees, websites, emails, even buttons.
With good reason: 73.3 is the percentage of students who graduated on time from Albuquerque Public Schools in 2013. It's indicative of the hard work, long hours and determination of our students, staff, parents and supporters that's resulted in continued growth and improvement.
Let's put the number in perspective. When I started as the APS superintendent, the percentage of our students graduating with their classmates was 63.2. That number has jumped 16 percent in six years, an amazing gain that's less about statistics and more about young people earning diplomas, and moving on to college and careers. Isn't that what public education is all about?
When I got here, we committed to raising the graduation rate to 70 percent. We hit that target last year and surpassed it by three percentage points this year.
Now we're shooting for 75 percent, a goal that no longer seems lofty. In fact, it's within arm's reach.
73.3 translates to nearly 4,800 students in the class of 2013 who earned their high school diploma in four years. Another 275 finished up a few months later during summer school. That's more than 5,000 APS students last year who reached a life pinnacle, throwing open the door to a future of promise and possibility.
73.3 represents more than 6,000 APS teachers and 2,000 educational assistants who work tirelessly to teach future graduates to read, write, compute, think, problem solve.
73.3 also is symbolic of the many people in APS who work to support our students, teachers and schools – from the cafeteria worker who serves nutritious meals to the custodian who keeps our buildings clean to the payroll clerk who makes sure our hard-working employees get paid on time.
73.3 denotes the many programs we've put in place to help give students the extra support they need to succeed – AVID, the extended high school day, online learning, college and career counseling, more AP classes, peer tutoring, dual high school/college credit, project-based learning, schools of choice.
Now you get why we're so excited about 73.3.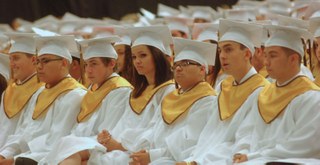 But that's not the only number we're celebrating. Check out these statistics:
11 of our 13 comprehensive high schools saw improved graduation rates in 2013, including Rio Grande, up nearly 16 percentage points in four years, and Highland, which saw a whopping 17 percentage point gain in the same time period.
3 of our 5 alternative high schools saw improved graduation rates in 2013, including Freedom, which has seen an increase of 22 percentage points since 2010.
Just as impressive is the improvement among our demographic groups, all of which saw gains in 2013. We're especially thrilled with the gains made by our student with disabilities – more than 40 percent in three years!
The graduation rate among our poorest students also has seen a substantial increase of nearly 19 percent in three years, as has the rate among students who aren't native English speakers, which increased 22 percent in that time period. Congratulations to those who work in special education, low-income schools, bilingual programs and diverse classrooms, and to everyone dedicated to helping all of our students reach academic success.
We're not done. We will continue to work to improve our graduation rates in Albuquerque Public Schools. But we're well on our way. And that's worth celebrating.
Winston Brooks, Albuquerque's school superintendent, writes a monthly column. Send comments or questions to superintendent@aps.edu.